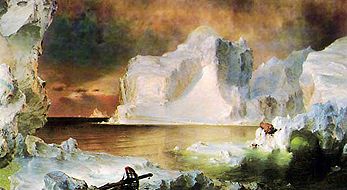 Frederic Edwin Church: The Icebergs, 1861
Dallas museum of Art


In the summer of 1859, Frederic Church embarked on a month-long trip aboard a chartered schooner to sketch icebergs in the waters off the coast of Newfoundland and Labrador.



Church's interest in the Arctic stemmed from the publicity surrounding the disappearance of the Franklin Expedition, lost while searching for the Northwest Passage in 1847. The ensuing search for Franklin caught the American imagination, as successive rescue missions failed to find the explorer, but stimulated interest in the frozen North as an irresistibly beautiful, yet deadly frontier.



Back home, Church used his sketches to create "The Icebergs", a huge (164 x 286 cm) oil painting. When first exhibited in 1861, the first year of the Civil War, it met with a very mixed response and failed to find a buyer.



In 1863, the painting was shipped to London. In the meantime, Church had added the broken mast in the foreground. Maybe he was hinting at Franklin's ship.



"The Icebergs" was bought by Sir Edward Watkin from Manchester and was more or less forgotten along with the artist. In 1979 it surfaced again, to fetch a price of $2.500.000 at a New York auction.



Frederic Edwin Church
(1826-1900) was the only son of a rich Hartford, Connecticut, family. He studied with Thomas Cole, a successful and important American painter.
Church's painting "Niagara" (above) was extremely popular.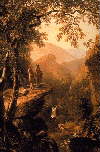 Hudson River School
Generally considered the first native art movement in the United States, this group of landscape painters lasted from c. 1825-70 and included the artists Thomas Cole, Asher Durand and Frederic Church among others.
Shown above is "Kindred Spirits" by Asher Durand.