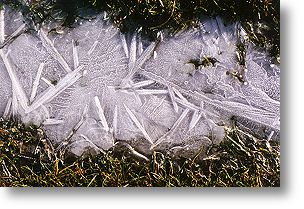 The intimate days of Christmas form the real start of the New Year. However, one sometimes needs courage to enter it with optimism.
Yet be aware that even water can carry, provided it's frozen!
The ice is born, too. Suddenly, long needles dart over the surface of the water. In their turn, they sideways fire fibres of ice, weaving a mat of ice.
Indeed, we already know ice in its needle-form as hoar-frost, snowflakes and frost-flowers on the windows.
Is this why we like to have a white Christmas?