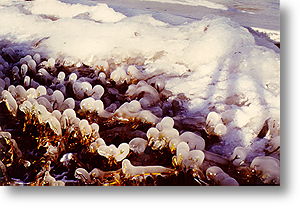 Last year I told you about the "bell-ice", now I will present you the myth of the "puppet-ice".
From the amorphous white of the snow and ice that cover the land, Jack Frost conjures forth creatures modelled of ice. An army of frosty dwarfs, creeping menacingly in our direction.
Roots and sprigs are embedded in the crust of ice. All hope for live seems lost. But those who look keen will recognize living green in the balls of ice.
Behold, the green plants will triumph after all!