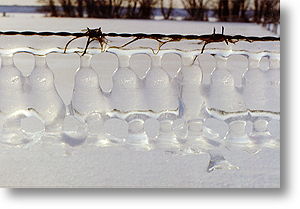 The falling water has formed a string of icicles from the barbed wire. They are linked by a small thread of ice on that wire.
Later on the water level rises and by every wave the icicles are dipped with more ice.
Then the water falls again. The dipping shifts to a lower lever, where most of the ice is deposited.
At last the whole lake freezes. The tips of the icicles are frozen into the surface. By absorption of warmth and because of its elasticity the pulled-down wire springs free.
Behold the club-ice: free, arms linked, reflected by the frozen surface of the lake. Waiting for spring.