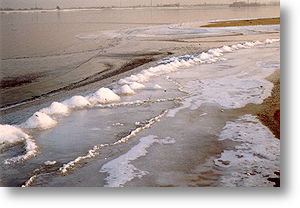 A gale is blowing and there is a sharp frost.
The wind propels the waves ashore. Slower and slower the water creeps up, quicker all the time it flows back again. While slowing down, the water is seized by the frost. A wall of ice forms, first of a wavy shape, later more angular. It thickens with every new sweep of water.
The water is pushed into the corners, where the spray forms little icebergs. They arise at regular intervals along the original, wavy pattern of the ice wall.