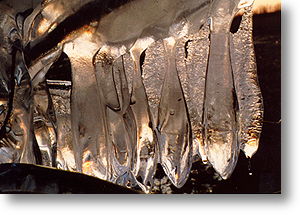 "Club-ice", it's the mystery of 1994.
Icicles have a conical shape, the club-ice has not. I'm at a loss to explain how it comes into being. It has something to do with hard frost and wind combined with a rising and falling level of the water.
The origin of the small icicle at the tip of the club at the far right is much more difficult to explain than one should imagine. Moreover, what about the cracks in the clubs at the back?
Here's food for thought if you have nothing better to do!